Update: the 2016 Back to School Giveaway prize package is now worth $5,800 in free school supplies, thanks to incredibly generous donations from Universal and TOPS Products. Keep reading to see how you can win!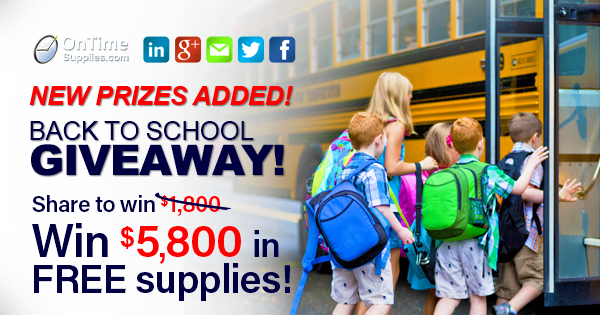 OnTimeSupplies.com is the perfect place for teachers and students to shop for school supplies, thanks to the extensive selection, discount pricing and lightning fast delivery. Now, it's the perfect place to stock up on supplies for FREE! Don't miss your chance to win $5,800 in FREE school supplies from On Time Supplies! Enter the 2016 Back to School Giveaway today!

How to win $5,800 in school supplies.
Entering the Back to School Giveaway is as easy as 1-2-3!
Join our email list for the latest school & office supply deals.
AND/OR
Subscribe to the Office Ink Blog.
Leave a comment on this post telling us about your favorite teacher or student!
Make sure you mention where you shared the Giveaway so we can count your entry.
You get one entry per subscription and share. For five entries and five chances to win, subscribe to the blog and our mailing list, then follow us and share the giveaway on all four social networks.
2016 Back to School Giveaway Prize Package.
This year's prize package includes classroom essentials from your favorite school supply brands! You can browse (and shop!) the complete Back to School Giveaway Prize Package here, but here is a preview:
• $130 worth of Avery Labels.
• $300+ in organizers from Avery and Quality Park.
• $300 in Scotch Tape, Post-it Notes and more from 3M.
• $400 in Pens, Pencils, Correction Tape and more from Pentel, Tombow, and other top brands!
• $390 in classroom arts and craft supplies from Avery, Fiskars and X-ACTO.
• $250 in first aid and hygiene supplies from Curad, Dial, LYSOL and Kleenex.
The fine print.
The 2016 Back to School Giveaway ends August 19, 2016. We'll announce the winner Wednesday, August 24th. The contest is open to residents of the continental U.S. over the age of 18. All prizes subject to availability and subject to substitution.
Good luck, and thanks for participating!