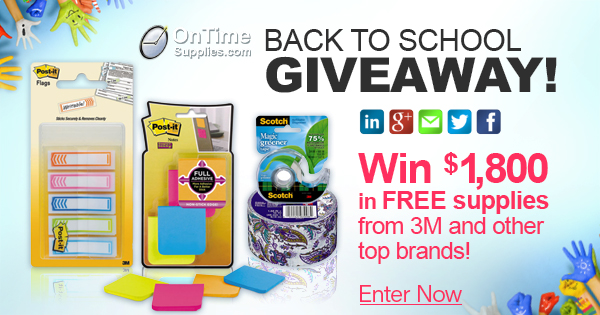 The $1,800 school supplies giveaway from On Time Supplies is well underway. Lots of you guys have joined our email list, and are liking, sharing and tweeting up a storm for a chance to win. And we've gotten some great stories about awesome teachers!
Let's take a closer look at some of the prizes, specifically the ones from 3M. You guys, they've provided so many of our favorite Scotch and Post-it products — $300 worth, in fact! You can't even buy some of this stuff, that's how cool the 3M package is.
(15) rolls of Scotch Tape, from always handy Magic Tape to super-cute paisley duct tape. Plus a cute tape dispenser.
(3) pairs of premium scissors, including a really cute pair from the 3M Designer Series that you don't have to loan out to anybody.
(8) packs Post-it Notes in various colors and sizes, as well as a sweet Pop Up Note Dispenser.
(8) packs of Post-Page Flags and Tabs.
You don't have to be a teacher or a student to want to get your hands on this swag! You can buy most of the 3M prizes from On Time Supplies here, where you can also get a look at many of the other prizes.
How to win $1,800 in school supplies from 3M and other top brands:
Join our email list for the latest school & office supply deals.
AND/OR
Subscribe to the Office Ink Blog.
Leave a comment on this post telling us about your favorite teacher or student!
Make sure you mention where you shared the Giveaway so we can count your entry.
Reminder: contest entries go here. Use this post to talk about 3M, or school supplies, or anything really. Just make sure you post your contest entries on the contest post so we can get you entered in the drawing.