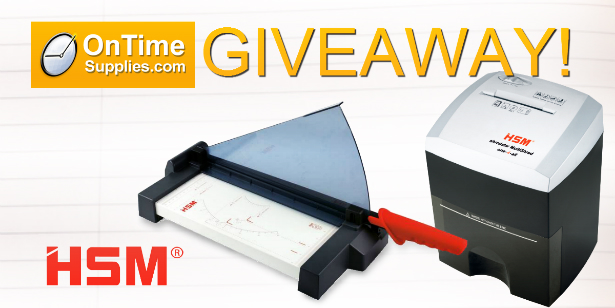 We are entering the home stretch of the 2015 Back to school Giveaway! With only five days left to enter, you don't want to miss your chance more than $2,100 in free school supplies!
The prize package is full of classroom essentials, but I think teachers will especially love the contributions from HSM of America: a new Multishred Paper Shredder and Cutline Guillotine Trimmer Board.
HSM Shredders make quick work of paper waste to classroom clutter and protect privacy. And with the Cutline Guillotine, you can precisely cut paper, greeting cards, photos, thin cardboard or foil for classroom decorations and craft projects.
Don't miss your chance at these great prizes! Enter the On Time Supplies School Supplies Giveaway today!
How to enter the 2015 Back to School Giveaway from On Time Supplies.
Join our email list for the latest school & office supply deals.
AND/OR
Subscribe to the Office Ink Blog.
Leave a comment on this post telling us about your favorite teacher or student. Be sure to mention where you shared the Giveaway so we can count your entry.
Remember: the more ways you enter, the more chances you have to win. Subscribe to our blog and join our email list, then share the giveaway on Facebook Twitter and Google+ for up to five chances to win. We're accepting entries through Friday, August 21st.