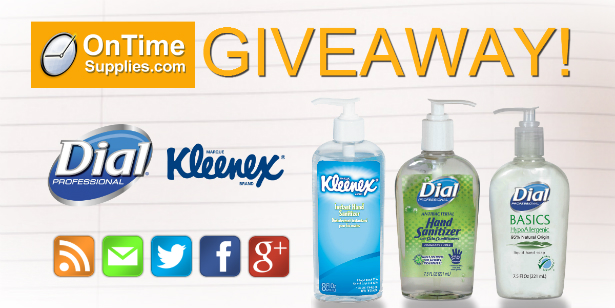 If you haven't entered our massive school supplies giveaway yet, you might want to get on it! We're only accepting entries through Friday night — 11:59 pm CST, to be precise. Don't miss your chance to win more than $2,100 in free classroom supplies!
We put together the $2,100 prize package with teachers in mind. That's why we're especially pleased to offer these Dial and Kleenex hand soaps and sanitizers. We love kids, but lets face it — they are basically walking, talking cold and flu vectors. These will help everyone in your class avoid the sniffles:
We've also thrown in five Renuzit® Air Fresheners, so you can keep your classroom smelling fresh.
How to win $2,100 in FREE School Supplies from On Time Supplies.
Join our email list for the latest school & office supply deals.
AND/OR
Subscribe to the Office Ink Blog.
Leave a comment on this post telling us about your favorite teacher or student. Be sure to mention where you shared the Giveaway so we can count your entry.
Remember, you have to complete each step to submit a valid entry. That means you must subscribe + share + comment to be eligible to win. So make sure you do all three before the contest closes.
The more places you subscribe and share, the more chances you have to win. You can enter up to five times. Just be sure to leave a comment here telling us where you shared the giveaway so we can count your entry.
Good luck, and thanks for participating!