Get a streaky mess when you try to write with your Universal® Pen Style Dry Erase Marker UNV43671? Time for a new pack. But while you wait the day or two for your new markers to arrive, there are a couple things you can do to eke out a little extra life.

1. Revive your dry erase markers by flipping the tip.
You can revive your Universal Dry erase markers by disassembling the body and flipping the tip. Here's how you do it:
Take apart the marker barrel and remove the ink cartridge.
Use a pair of tweezers or needle nosed pliers to pull the the tip out from the head of the marker.
Reinsert the felt tip into the head, then reassemble the rest of the marker.
Voila! Now your dry erase marker is [almost] as good as new.
2. Soak your dry erase markers  in water
Another way you can revive your dried out dry erase markers is giving them a bath. We've talked about how hot water works to revive dried out pens. The concept is just the same for dried out dry erase markers.
Pour a cup of hot water in a bowl you don't mind potentially staining.
Place your dried out dry erase markers in the bowl tip first and let them set for about five minutes.
Remove your markers and place them uncapped on a dry towel for 24 hours.
Presto, chango, your markers should work just fine for a little while longer.
Remember, the #1 way to keep your Universal Dry Erase Markers from drying out in the first place in store them with the caps on. It also helps to store them standing in a pencil cup with the nib side down. That way, you corral gravity into helping you preserve your markers.
Got a tip for reviving dried out Universal Dry Erase Markers? Post your suggestions in the comments.
Source: TheKrazyCouponLady.com, Lifehacker.com
Recommended Dry Erase Markers
 (5 / 5 stars) by Kim from California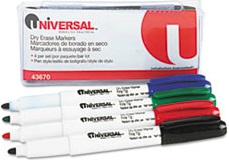 We purchased these black dry erase markers for several schools, but we wanted to try them out with a smaller order first. We are pleased with the product. It provides a nice, dark line and erases easily. The fine tip allows for precision, but it is not so fine that the line cannot be seen from the back of the room. The cap holds securely, which leads us to believe that the pens, properly capped, will be long-lasting. The price is right. Compared to other comparable pens, it is quite low — very reasonable. Delivery was incredibly fast. We received the pens in two days. It looks like we will be ordering a bunch more, as these pens meet the needs we anticipate in the classrooms that will be using them.

Pen Style Dry Erase Marker, Fine Tip, Dozen