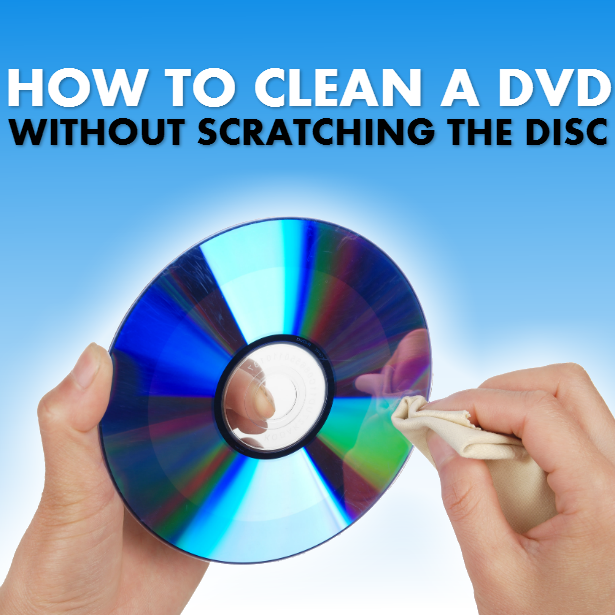 Not everything is streaming online or stored on the cloud. Sometimes, you can't get around storing and accessing data and media on DVDs. Keeping those fragile discs clean and scratch free has always been  a challenge. Today we show you how to clean a DVD without scratching the surface. We've also got some tips on repairing DVD and CD scratches.
How to clean a DVD without scratching the disc.
The first trick to successfully cleaning a DVD without scratching the surface is to use the right cleaning cloth. The hem of your shirt is not going to cut it. You need a very soft cotton cloth. Microfiber works great.  Microfiber cloths are reusable, and are also perfect for cleaning your smartphone, LCD laptop and tablet screens, your eyeglasses, etc.
Recommended Microfiber Cloths:
| | |
| --- | --- |
| | |
| Innovera® Microfiber Cleaning Cloths | 3M Microfiber Electronics Cleaning Cloth |
You can also clean a DVD with 100% cotton swabs and balls. Just on't use any sort of paper product. Even the softest facial tissues are made from abrasive wood fibers that will scratch your DVD. Once you've got you're cloth, you can choose a cleaning solution. A mix of dish soap and water will suffice in most circumstances. If that doesn't do the trick, try cleaning your DVD with 99% Isopropyl Alchohol. This is most readily available in the form of specialty DVD cleaning solutions.
Recommended DVD Cleaners:
| | | |
| --- | --- | --- |
| | | |
| Scotch CD/DVD Disc Cleaner & Repair Kit | Read Right® CD/DVD Kleen™ Cleaner | Innovera® Computer Cleaning Kit |
How to repair CD / DVD scratches.
Repairing CD and DVD scratches is tricky. Success depends on the depth and location of the gouges. However, there are a few well documented fixes that gently buff and fill in DVD scratches:
Toothpaste

Furniture Polish
Car wax
Metal polish
Be gentle when repairing and cleaning DVDs. The old advice to lightly wipe in straight lines from the center hole to the outer edge is sound. Stubborn stains and scratches should be handled with a light hand and a ton of patience.  Good luck! Got some advice on how to clean a DVD without scratching the surface, or on repairing a scratched DVD? Share your tips in the comments.
Sources: The DIY Video Editor, Wikihow, How Stuff Works