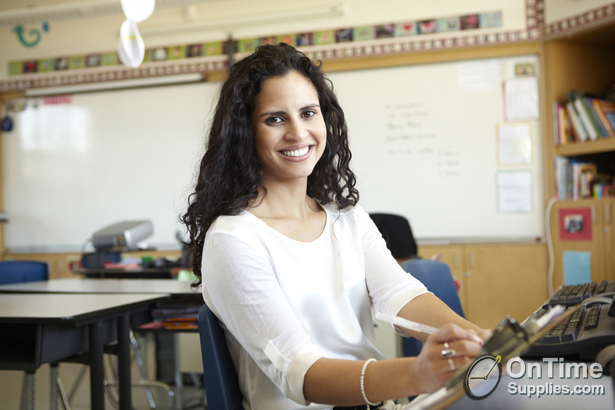 Most of us put off any heavy-duty planning until there's a multitude of things to do and shortage of time in which to get them done. Why not get ahead and set yourself up for success?
It's actually pretty easy: just think like a teacher.
Teachers face all sorts of unique challenges when it comes to planning ahead, even now: they have contracts to sign, lessons to plan, and holidays to account for. They aren't alone.
Administrators probably have it worst of all. It's hard enough budgeting and allocating your own time. Now imagine balancing the needs of an entire faculty or school. These tasks definitely aren't for the meek!

Our teachers have found a secret weapon: the Riegle Press National School Calendar
The educators who frequent On Time Supplies have shared a much beloved tool for tackling their planning needs, the Riegle Press National School Calendar. Many swear by it and have used it for years, and with good reason. The calendar accounts for their hour-to-hour needs, has plenty of room for notes and additions, is durable, and helps them forecast all of holidays and school-day variations they'll run into.
(Oh, and guess what? To help our educators stay ahead, we've got the updated 2016-17 National School Calendar in stock right now!)
Teachers understand the benefit of planning ahead, they have to. And we could all stand to learn a thing or two from their appreciation of this calendar.
Preperation will always trump procrastination.
Follow our teachers' example and apply the five P's:"proper planning prevents poor performance." It's often said, because it's often true.
How often do any of us actually turn adages into action? If you're a member of the "not often enough" club now's the time to start building better habits.
Lay a solid foundation for the year. Grab a calendar or day planner instead of pulling your hair out over forgotten events, missed deadlines, or uttering the dreaded, "oh, was that today!"
Don't let next month or next semester catch you unprepared. Think like a teacher. Get ahead.
Let us know below any time where the five P's or a calendar pulled you from the jaws of a major scheduling disaster. Good luck out there!