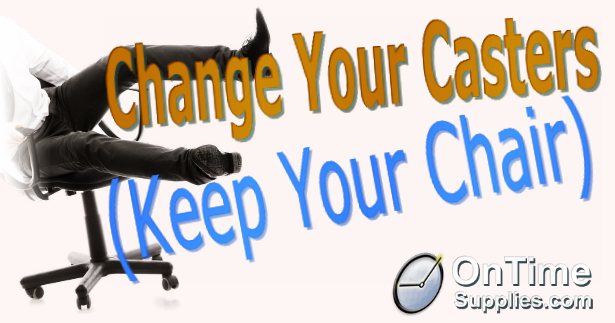 Does your computer chair skate across the floor every time you sit down or get up? Does it slide around when you fidget?  That's because your chair has the wrong type of wheels for your flooring.
Most computer chairs come with hard wheel casters. Those are great if your chair sits on a medium or low-pile carpet. The hard wheels allow your chair to roll smoothly on carpets, reducing the risk of damage to the floors and strain to the body. But if you have bare floors, or super plush carpeting, or use a chair mat, you should swap out your current casters. That's according to Master Manufacturing Company, the folks who make most of the replacement office chair casters in the US:
Just as tires must have the proper tread for safe driving on dry pavement as well as slick or snow covered roadways, chair movement depends on wheels that provide appropriate traction on hard or soft wheels.
Use soft wheel casters on bare floors, chair mats and shaggy carpets.
Soft wheels are made from rubber or a soft compound materials such as urethane that "grips" hard flooring. This prevents your chair from sliding all over the place every time you get up, sit down or fidget.
Soft wheels are also best for deep pile carpets. Those are carpets with relatively long fibers. Think retro shag or lush bedroom carpets. Hard casters destroy deep pile carpets, plus they tend to skate on such surfaces. In fact, if you have a deep pile carpet, you should use soft casters, plus a chair mat.
You can find more information on replacing your chair casters, including tips getting the right size, in the OnTimeSupplies.com Chair Caster Buying Guide.
Source: How to replace your office chair casters; Master Manufacturing