Update: We have our Avery HI-Liter Giveaway Winners! Two teachers are starting the new school year with three dozen free highlighters!
First up, Amy:
I am an English teacher of 6th graders. Middle school is brand new to them, and they have no idea how much they need highlighters when they get to middle school. We use them DAILY in English class for reinforcement, emphasis, and to add a little "color" to our lives! I would love to win these for my classroom!
And winner #2, Joy:
My anatomy students have a lot of vocabulary with the 11 different body systems and it often gets confusing for them if they cannot sort it. They also come from very low income homes with many being on free and reduced lunch. Many can not afford to buy the extra supplies yet alone the basics such as paper and pencils. Thank you for your consideration and for being so kind and generous.
Congratulation to two great teachers!
As usual, we've got another great giveaway going on right now! Head on over the the E.S. Robbins Giveaway for your chance to win a cool collegiate chair mat repping the team of your choice!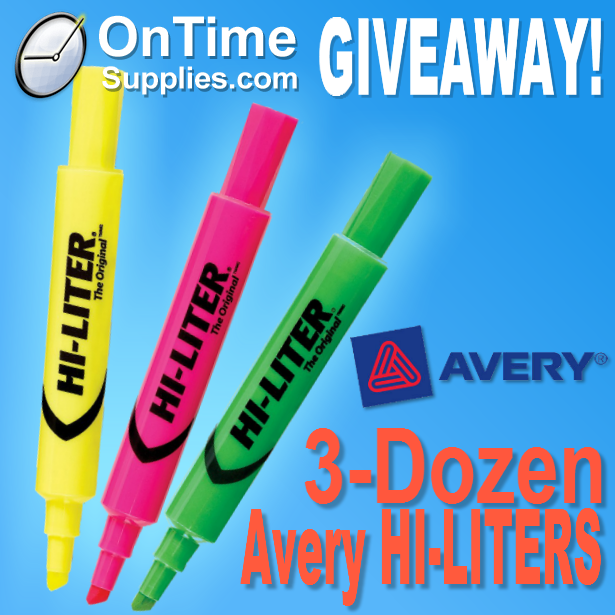 This week, we're giving away three dozen Avery HI-LITER Highlighters to two lucky winners! Avery HI-LITERS are perfect for classrooms and offices, thanks to brilliant read-through colors and  molded chisel tips that highlight or underline. Each winner gets:
Enter the Avery HI-LITERS Giveaway now for your chance to win!
How to Enter Avery HI-LITER Highlighters Giveaway:
Subscribe to Office Ink Blog via email.
OR
Follow On Time Supplies on Facebook and share the giveaway on your Facebook page.
OR
Follow On Time Supplies on Twitter and re-tweet the giveaway.
Leave a comment on this post telling us why you should win!
Get three entries and three chances to win by entering on Facebook, Twitter AND the blog. The Avery HI-LITER Giveaway ends next Monday, August 19. We'll announce the winner here at the Office Ink  Blog Wednesday, August 21. Good luck!