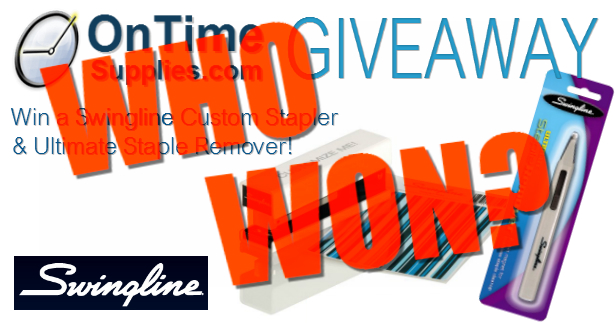 Thanks to everyone who participated in the OnTimeSupplies.com Swingline Skins Stapler Giveaway. Your comments, tweets and Facebook posts help make our latest giveaway a real success.
Now for the part you're waiting for! The winner of the Swingline Skins Stapler & Ultimate Staple Remover is…
Laurie! Congratulations!
Laurie says she's personalizing her stapler to show her team pride:
If I won the custom stapler, I'd want the San Francisco Giants logo skin. If that's not possible, Bengal tiger stripes would be equally awesome.  I have entered the giveaway by: 1) liking your facebook page 2) following on twitter 3) posting comment/image on your facebook contest post and 4) tweeting comment/image. Thanks for offering this great giveaway!
Your stapler is going to look awesome, Laurie. All the other staplers will be jealous!
Didn't win? Don't worry — you can totally buy a Swingline Skins Stapler and Ultimate Staple Remover at OnTimeSupplies.com. Thanks to our speedy shipping, your stapler will arrive in a day or two. Plus, we'll have another chance to win free supplies coming up soon!
Thanks again to all the participants!