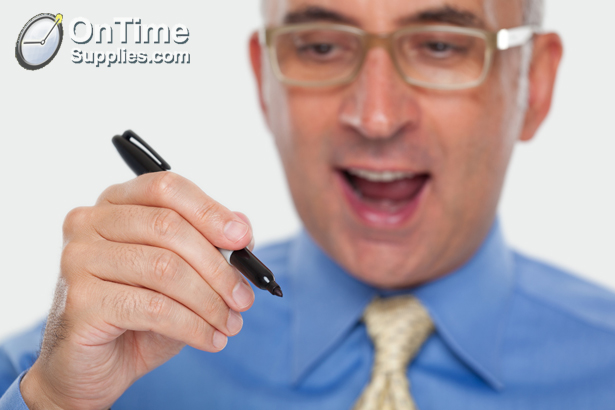 Sharpies, we love them, and for many tasks there is simply no substitute.  Here at On Time Supplies we often get questions about which markers are best or which markers are needed for certain tasks.  In this post we'd like to lend a hand and talk a bit about Sharpies.
How to Choose A Sharpie Marker.
We've all encountered that moment when you know you need one.  Maybe there's a project you need to tackle, or you've just realized you're out and need to restock. Either way, you need the right marker for the job.
The first thing you have to account for is what feels the most comfortable in your hand.  Certain projects will also logically call for larger writing formats. Sometimes the heft of a larger writing tool helps fight hand fatigue, if you'll be using it for large swatches or long periods of time. Either way, the King Size permanent marker is a great option. For more info on marker tips, writing styles, and formats check out our buying guide here.
The real question you have to ask is, whether you need the more standard Fine Point Permanent or the Industrial  Permanent Fine Point?
Luckily the choice is made little easier since both are water and fade resistant, giving you similar benefits in their longevity and integrity under everyday use.
What you need to consider, however, is where and on what surface your everyday use occurs.  After all, everyday use at a ship yard is a far cry from the daily marker needs of a daycare.
Best Sharpies for homes and offices. 
The permanent fine tip is perfect for school, office, and your average home situations. The surfaces you tend to encounter being, smooth plastics, ceramics, acrylics and so on. The Fine Point Permanent is hard to beat in these situations.
Best Sharpies for frequent use.
If you have a small number of markers that get used frequently consider the Super Permanent Fine Point. You get better value over time with this option, as it offers increased ink capacity per Sharpie.
Best Sharpies for outdoors and harsh environments.
Regarding our plumbers, carpenters, general contractors, or any person who needs to mark rougher, more troubling surfaces, If you're writing on: wood, metal, glass, etc, Sharpie Industrial Markers are the right marker for you.
Sharpie® Industrial Permanent Markers maintain integrity on surfaces up to 500°F, they can even perform on more watery and oily surfaces. Sometimes, even in office or school environments, you may need to write outside or on any tough surface. If so the answer is simple, go industrial.
For our Contractors or anyone concerned about outdoor conditions, go with Sharpie® Mean Streak® Marking Sticks. Made for especially rough, wet or oily surfaces, and outdoor use. It's Sharpie's strongest ink formulation, so you can rest assured that it will brave the elements better than any other option.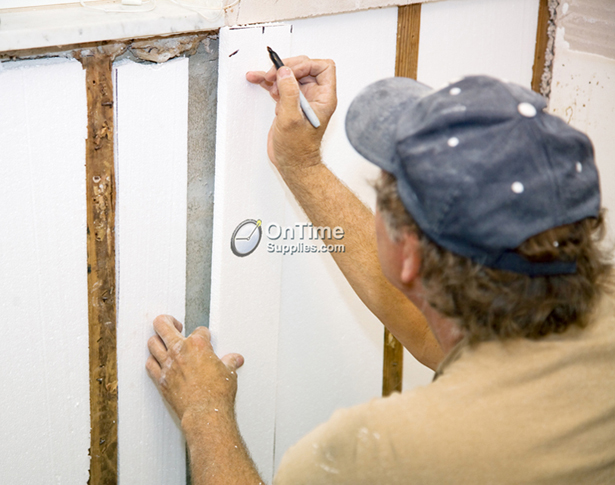 With this, we hope we've made your marker buying experience a bit more manageable.
Let us know below any interesting circumstances you may have encountered using these markers. Happy writing!