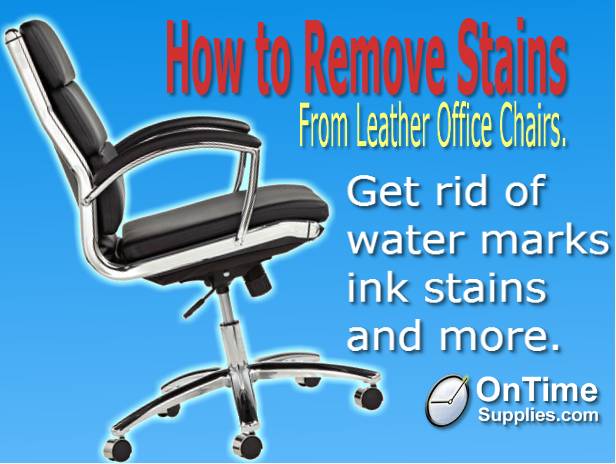 One of the [many] cool things about leather chairs is that they are naturally stain resistant. Most of time, you can simply wipe off spills and stains. However, getting rid of a stubborn stain, such as an ink or water stain, without marring the leather can be tricky. Office Ink shows you 9 ways to clean a leather office chair.
9 Ways to Clean Leather Office Chairs
Apply these cleansers to a soft microfiber cloth, not the chair itself. The goal is to treat the stain with as little moisture as possible.
Wood Furniture Polish, such as classic Lemon Pledge
1 part lemon juice, 1 part cream of tartar
1 part water, 1 part white vinegar
alcohol- and ammonia-free wipes, such as Endust® Screen Cleaning Wipes
Mayo
Suntan Oil (that one is Office Ink tested!)
Baby Soap
Facial Wash
Rubbing alcohol (a little on a cotton ball, and only after all else fails!)
Vacuum or thoroughly dust your leather office chair before you try any of these methods. You want your chair dust free before you start to eliminate the risk of scratches. In fact, you should wave the old hose attachment over your leather office chair regularly to remove the dust and debris that dulls and scratches leather finishes.
Sources: How to Clean Stuff, Martha Stewart, DIY Network, WikiHow