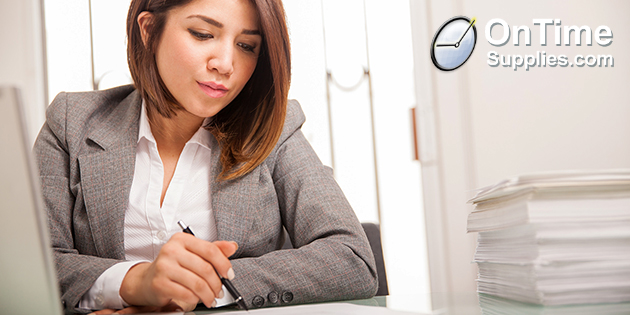 A good pen is hard to find.
Take a second. Sit down and think about a good pen. Now remember the last pen you used. Are they the same? The problem may not be your pen at all, but instead, what you think when comes time to buy. We're going to show you how to purchase pens like a pro. 
How can someone buy pens wrong? 
I'm glad you asked. Let me explain. You've probably got a drawer full of pens whose purchase did not necessitate a great deal of thought beforehand. They're likely the same pens you hand out to everyone around the office, which is nice. For your personal pen, however, practice professional preparation and shop for a pen that matches your day-to-day needs.
Are you in the legal or medical fields? If so you probably sign quite a few documents that benefit from ink permanence. A ballpoint pen will be a good fit for you. The titular "ball" allows for a more viscous ink to be used as it rotates at the writing tip. It pulls the heavier ink to the page. Heavier inks allow companies to employ sturdier formulations and this generally leads to increased ink permanence. Whether you're signing contracts or patient release forms, serious documents call for ink permanence. Start with the InkJoy 300RT Ballpoint. Customers have stated how, "It feels nice in the hand." and how, while writing, "the pen glides nicely on the paper and the color is vibrant."
Perhaps, you are a student or someone who does a great deal of personal note taking? A Roller Ball pen is a friend in these scenarios. "Why?" you may ask. Well, it's because these pens use a thinner ink that pools at the tip. This results in a  smoother feel as the pen glides over the page. However, the thinness of the ink makes it impermanent. The Jetstream 101 Roller Ball is a great option for this pen type.  It's been described as, "My new favorite pen. It writes very smooth and it doesn't smear. It is the perfect thickness."
Or maybe you're a small business owner whose day can be filled with anything from check signing to brainstorming business ideas. For you, a gel pen will likely be the most accommodating. Gel Pens bridge the gap between the smoothness of a roller ball and the ink security of a ballpoint. Take a look at the G2 Premium gel pen. A customer had this to say: "I love the G2 pens! They write really well and last forever." That's a pen you probably want!
Our Pen and Ink Guide goes into more detail regarding writing types and ink variation. But, no matter which categories you best fall into, a professional buys with their task in mind. They aim for quality while at the same time making sure to capitalize on savings.
Spend less over time with refillable pens.
The most savvy among us choose a refillable for a reason. Eventually, as your co-workers go through box after box of whatever is on sale, you'll notice that your "everyday writer," your favorite pen, is still going strong. Not only does it excel during your most frequent tasks but you'll no longer find yourself buying a replacement every couple of months. You're saving money!
That's all there is to it. Now you're a pen-shopping pro, congratulations. Are any of your favorites on our list? Let's us know below.