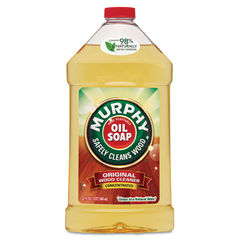 I think all you teachers will be especially interested in this cleaning tip.  Got a dry erase marker stain on your shirt? Before you'd have to add the shirt to the rag bin, or hope it was discreet enough not to notice. No more! Here's how to clean dry erase marker stains from your clothes:
1. Place a towel inside the garment to catch any ink bleed off.
2. Put a little Murphy Oil Soap on the dry erase marker stain.
3. Blot the stain until it's gone.
That's it! Just launder your shirt as you normally would and that dry erase marker stain is gone forever. Is there anything Murphy Oil Soap can't clean?
Source: HowToCleanStuff.net