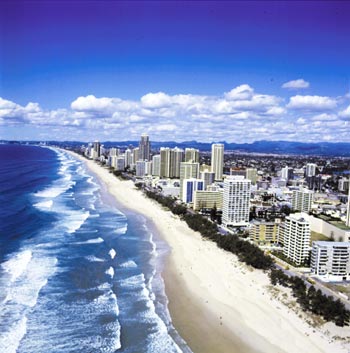 We've started a new series introducing you to the people who keep OnTimeSupplies.com up, running and delivering great service. Today's installment is about Shari, the longest serving OnTimeSupplies.com employee. Living in gorgeous, sunny Gold Coast, Australia, she's also the employee with the most enviable address. (Can you tell your blog mistress lives in already-cold Chicago?)
Shari's job title is Customer Service Manager, but she wears about 50 different hats at the company. Today, she talks a little about her responsibilities, how she became a bona fide expert in all things related to office furniture and supplies, offers some tips for telecommuters, and of course, which office supplies she can't live without.
How long have you worked for OnTimeSupplies.com?
8 years.
How has your job changed since you started?
I am a Human Resource/Payroll Specialist by trade, and have become a specialist in all Office Supplies, I am now Furniture Specialist and love dealing with all issues from trivial to major. etc. One thing that hasn't changed is my belief in GREAT customer service.
What does your current job entail?
Over the past few years, I have managed customer service for OnTimeSupplies. I am responsible for our Amazon sales and ensuring that Amazon has enough stock to fulfill our orders. I currently process all out of hours orders and deal with all major issues as they arise. I am responsible for the day to day running of OnTimeSupplies, make sure our staff are paid on time as are our various vendors. I utilize and analyze many different reports to ensure we are doing our job well, and ensure that customer service remains a priority. I love speaking to customers and solving all sorts of simple and more complex problems. I love speaking to customers and solving all sorts of simple and more complex problems.
What's your favorite part of the job?
I love the flexibility that my job provides!!
What's your favorite/handiest office supply?
Pens!!! In every color and style.
Do you have any tips for other people working from home?
While telecommuting has many great benefits, it poses special challenges. Even for part-time telecommuters, certain people and their living situations are better suited to telecommuting than others. Employees best suited to telecommuting are self-motivated, adaptable, independent, computer literate, have good communication skills and can balance work and non-work activities well. Importantly, employees need to have an appropriate workspace. They must have enough room in their home to work, including the space for necessary office equipment.