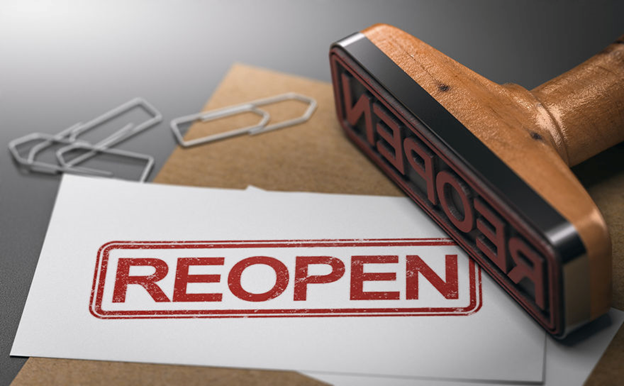 Reopening an office can present business owners and managers with a long list of difficult issues to deal with under most circumstances, especially if the closure was long term. Getting an office safely up to speed after a virus quarantine, like with the coronavirus, is even more of a challenge. This simple guide to reopening your office offers clear steps, tips and a list of important supplies needed to open your workplace responsibly. Get your staff back on the job while keeping them safe in your newly opened workspace using the right advice and products.
Setting Up Your Office Space for Reopening
Different states will have different guidelines about how to manage and reopen an office after their COVID-19 lockdown measures are eased. Regardless of your state's specific guidelines, there are some basic steps you can take to make your workplace safer for staff and any customers or contractors who visit your office on-site.
Space out workstations, desks and cubicles. Keep employees six feet (around two meters) apart. You can install plexiglass or plastic dividers between desks in open-office settings or settings where floor space is limited.
Change the orientation of desks and monitors to increase the distance between people (especially their mouths and noses). This will help keep the spread of airborne germs at bay.
Provide a staging station at the entrance of your office for workers and guests where they sanitize their hands. Also, post rules and recommendations for safely entering the office space outside the entrance.
It's also a good idea to post additional information signs outside of your office entrance about what to expect in this post-COVID environment. The information should be obvious and clear to read, detailing the new rules everyone is expected to follow.
Provide Posit-COVID Rules and Workplace Protocol Training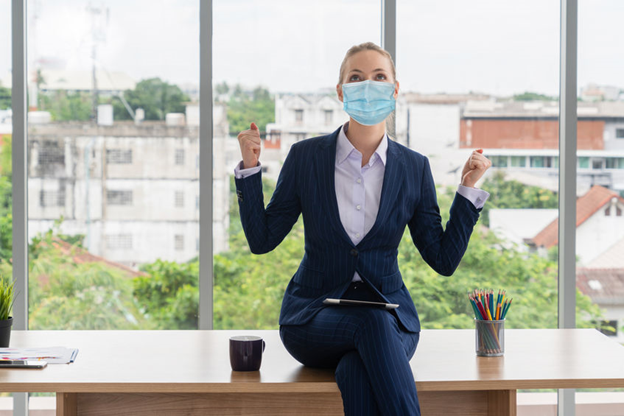 In addition to posting signs about what employees should expect when reopening an office after (and during) the coronavirus epidemic, you should provide training about what staff should anticipate concerning changes to how your physical office space will now operate. Ideally, the bulk of this training and information should be provided online or by email for accessibility and to avoid the necessity of gathering in large groups. Here are some key social-distancing protocols to consider:
Instruct employees to wash their hands often. Teach them how to properly use hand sanitizers and hand sanitizer stations.
Limit the number of people who use breakrooms at one time. You may have to change breakroom etiquette and add extra supplies. For example, stagger scheduled breaks, increase the availability of cleaning materials and switch to disposable cups, plates and utensils to avoid accidentally sharing a coffee mug.
Instruct and remind workers about maintaining social distancing. Once they're face-to-face, people often tend to forget about recommended safe distances and fall into old habits.
Put up signs to instruct and remind workers about how to cough safely.
Post notices throughout the office about sanitizing your hands after coughing.
After work, at least for now, skip after-work drinks or meals with colleagues. This will help maintain social distancing and reduce the risk of spreading a virus.
Add Extra Sanitation Measures Office-Wide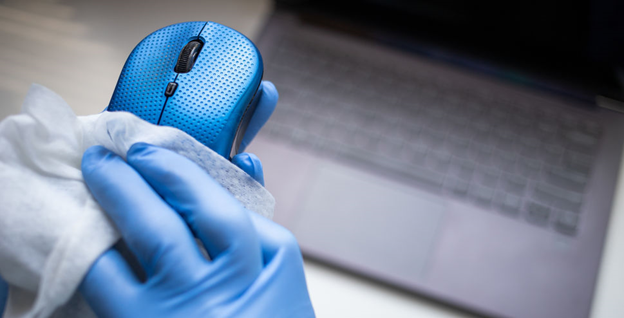 In keeping with the new COVID workplace environment, here are some extra sanitization measures you should consider providing in and around the office (in case your office is adjacent to or part of a warehouse or workshop):
Masks and gloves to use in tight spaces, or when moving from one location to another. Make sure to set up multiple locations/stations where employees can pick up their disposable protective gear.
Hand sanitizing dispensers, sanitizer stock and sanitizing stations throughout the office.
Signs and notices mounted around the office reminding everyone to wash their hands often, as well as instructions on how to cough and minimize the spread of disease.
Notices reminding people not to shake hands, essentially welcoming them to the new business norm.
Cleaning supplies readily available for wiping down and disinfecting keyboards, doorknobs and other shared surfaces in the modern workplace multiple times during the day.
Ensure office ventilation systems are functioning properly to keep the air as clean and germ-free as possible.
Never share cups, plates or utensils when in the breakroom. Use disposable products or bring your own from home.
Getting Workers Safely Back into the Office
It's understandable that workers might be apprehensive, eager or a combination of both when returning to the office. In addition to the steps we've already outlined, employees can return in waves (only a few at a time) over several days or weeks to reduce the stress of requiring everyone to return on the same day. Staggered shifts can also be implemented, when possible, to reduce the number of people on-location at any given time.
Employers can offer COVID testing at the office (if available), eliminate or reduce in-person meetings and use video conferencing tools too. Wear masks or even protective goggles if and when people need to meet in closer proximity than currently recommended.
Business owners and managers have a lot to think about when reopening an office, from new safety training and sanitization measures to creating a comfortable environment where employees, if they feel sick, can head home immediately. The world has changed with COVID-19, but with a little patience and preparation, safely reopening an office is a fairly straightforward and manageable task.