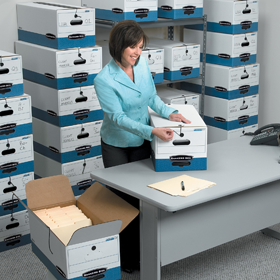 File storage boxes are a great way to free up space in your file cabinets and archive documents you don't need to consult every day, but can't throw away. You need to think about 3 things when choosing your file:
How much you need to store
What types of items are you storing.
Where you'll keep your file boxes.
We've got a detailed buying guide up at OnTimeSupplies.com, but here are a few basic guidelines.
Metal Storage Boxes
Metal storage boxes are extremely durable and lockable. They are the best choice for secure storage of sensitive documents.
Plastic File Boxes
Plastic file boxes are the best choice for transporting documents. Plastic boxes are also moisture resistant, so they are great for archiving & protecting documents in less than ideal environments, such as garages.
Cardboard Boxes
Cardboard file boxes are the most common, inexpensive and versatile option for archiving files. You can get them in are range of strengths  so you can store a little or a lot. You can also choose from a range of lid closure styles depending on how often you need to get at your stored documents. You can find more information on cardboard & other file box styles here.