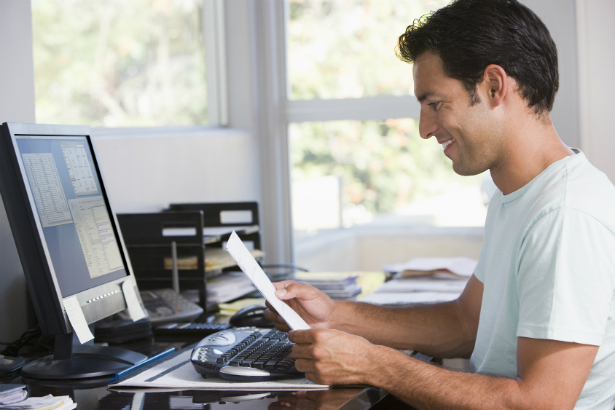 The Indianapolis arm of Examiner.com has posted a neat little article that gives a crash course in designing a home office.
In addition to helpful tips like placing your office away from the hustle and bustle of the rest of the house (avoid the kitchen or bedroom office; these are places you're meant to be thinking about your home, not your work), there is one section I of course find particularly noteworthy:
Furniture:  Start with the basics, a desk, a small filing cabinet, a book shelf, and a comfortable computer chair, then personalize your space depending on your working needs.  Place the desk in an area where you can see the door.  Also, if you are easily distracted, avoid placing your desk directly in front of a window.

Add items to your office that compliments your work.  A reading corner, with a comfy chair and an end table, a conference or work table and chairs, a credenza, storage/supply cabinet, small table and chairs for your kids, a dog bed, anything that makes your space its own.
None of these tips are necessarily earth-shattering, but it's nice to see them collected in one place. I think too often people setting up a home office take pieces from the existing house and rearrange them into a place where they feel they can get some work done. The flaw in this is that you feel like you're "working from home", and not owning "a home office." There is, in fact, a difference.
A home office ought to feel like an entirely separate entity from your house itself. Sure, it's nice that you can go to work in your PJs and slippers, but the fact is: you're at work when you're in your office, no matter where it is. Purchase office furniture and office supplies rather than co-opting things from the rest of the house. Make sure it's comfortable, of course, but make sure it is distinctly "your office." And as always, when you're out constructing your perfect workplace-away-from-home, be sure you use a reputable office supplier who can help you meet your needs.