The holiday season approaches, so it's time to think about your Christmas card list. In addition to friends and family, be sure to send Christmas cards to your boss, colleagues, clients and most valued customers. Christmas cards are a quick and easy way to market yourself and your work.
With so many people on your Christmas card list, you don't want to address all the envelopes by hand. Address labels are clearly the way to go, so why not spread a little holiday cheer with customized Christmas address labels? In fact, you can make custom address labels for any occasion using free address label templates, from bride and groom address labels for wedding invitations to baseball and border collie address labels just because! You can google around for a free address label template, or visit Avery.com, where you can download a free address label software or design and print custom address labels online. The Avery address label software also lets you merge you contact list for even more convenience, or you can type in each recipients mailing information.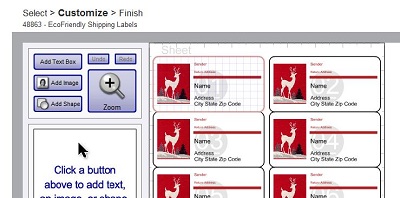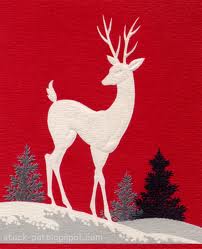 I used the Avery address label design studio to make my custom address labels this year. Avery has a nice selection of Christmas icons you can use, but I fell in love with this vintage-y reindeer design I found and used that instead. Keep in mind, shipping labels work better than small address labels when you really want to showcase a fantastic Christmas picture. You get the best color printing results when you use the  matte white Avery mailing labels, but I'm always looking for ways to go green, so I used the EcoFriendly Avery shipping labels. My personalized address labels still look pretty great!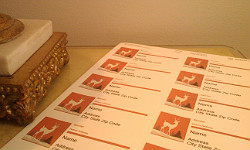 Other Avery printable shipping labels that would make great Christmas labels:
Avery clear address labels: clear mailing labels are great for envelopes in festive Christmas colors.
Avery foil mailing labels: address labels with a metallic gloss in silver or gold are festive and elegant.
Remember, your printable Christmas labels design is only limited by your imagination: you can create printable Disney address labels, Christian address labels and more. So have fun with your custom address labels project!