More than ever, the humble home computer supports a wide variety of your kid's educational activities. From research to paper writing, the home computer is an invaluable educational resource. The approach of the new school year means that it is time to stock up on printer paper. On Time Supplies makes it easy to get all the printer paper you need, offering great prices on a huge selection of laser and inkjet printer paper.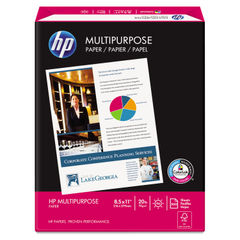 Your kid needs a good supply of printer paper to write papers, print research and complete school projects, so printer paper is on every middle and high school supplies list. That's why On Time Supplies included high quality HP Multipurpose Paper in the Back to School Giveaway prize package. HP paper works great in home printers and fax machines because it resists smears and smudges, and yields bold blacks and vivid colors. Plus, every ream of HP inkjet and laser printer paper contains 500 sheets of paper, so you don't have to feel guilty about snagging a sheet or two when you need printer, copy or fax paper for yourself! After all, turnabout is fair play and your kids have been stealing your office paper for years!
Winning free HP printer paper from On Time Supplies is quick, easy and absolutely free. The complete contest entry rules are here, but basically all you have to do is subscribe to the Smart Office Blog and let us know you really want those free school supplies! On Time Supplies is giving away a wide variety of back to school supplies, including #2 school pencils, a 2GB flash drive, locker supplies, color pencils, correction tape and other essential school and classroom supplies. Be sure to tune in to Smart Office Friday, August 6th. That's when we'll announce the who won the On Time Supplies Back to School Giveaway and will get this year's school supplies for free.