Update: We have our winners! Congratulations to Janine and Nancy one winning the Paper Mate Giveaway and free pens, pencils & correction tape!
Janine:
I would love to win because these are great supplies to help my 5th graders with their writing. Mechanical pencils and ball points are easy to use and write smoothly. The varied colors would be great for the editing process, which can even be done with a friend to give you suggestions in cool colors! Oh! So many possibilities.
Nancy:
For the last several years, I have donated supplies to children in my neighbor whose parents couldn't afford to give them what they needed for school. Everyone is experiencing hard times and I have come to believe that it takes a village. Also, as many teachers, I spend more money than I can truly afford on supplies for my classroom. See, I teach in an area where many of our students come from broken homes and many are homeless. Winning these supplies would go a long way and I would love to share with the children who have touched my life.
Looks like both our winners will make great use of their prizes! Congratulations again!
The Paper Mate Giveaway is over, but our Math Pack Giveaway is just starting! Enter today for your chance to win extra calculators and mechanical pencils for your class. And don't forget: today is the LAST day to enter the awesome Back to School Giveaway and $500 in free school supplies. Good luck!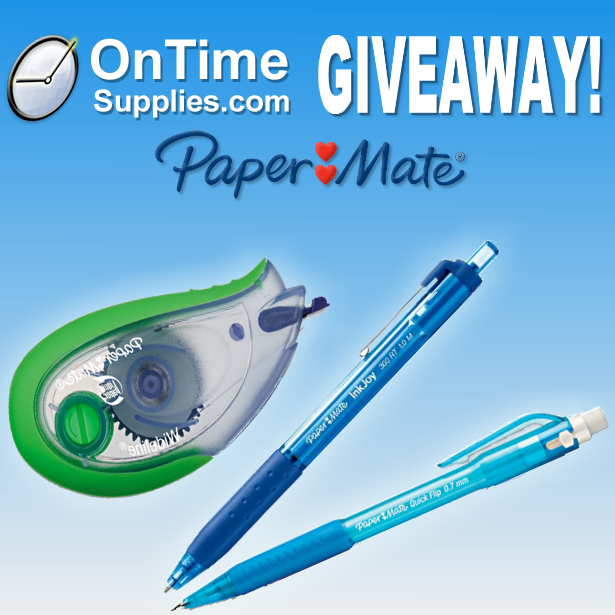 This week, we've got a Paper Mate prize pack to give to one lucky winner! Enter the Paper Mate Giveaway today for your chance to win:
Paper Mate Inkjoy Retractable Ballpoint Pens: two dozen in a range of colors –from basic black and blue to fun orange and purple pens!
Paper Mate Quick Flip Mechanical Pencils: a doze smudge proof pencils featuring two-in-one erases that last twice as long as standard mechanical pencils!
Paper Mate Liquid Paper WideLine Correction Tape: tear-proof Liquid Paper correction tape size to completely cover handwritten mistakes and typos!
How to Enter the Paper Mate Giveaway:
Subscribe to Office Ink via email or RSS.
OR
Follow On Time Supplies on Facebook & share the giveaway on your Facebook page.
OR
Follow On Time Supplies on Twitter and re-tweet the giveaway.
Leave us a comment on this post telling us why you should win!
Get extra entries by entering on Facebook, Twitter and Office Ink.  And hurry! The Paper Mate Giveaway ends next  Monday, July 29. We'll announce the winner here at Office Ink Wednesday,  July 31.  Good luck!