Update: We got a lot of great entries in the X-ACTO Electric Pencil Sharpener Giveaway, and now we have our winner! Congratulations to Holly!
I should win this pencil sharpener because I am in a newly created classroom that does not have a pencil sharpener. At this point I will have to either have to win this contest, find the nearest classroom that has one, or buy one myself. I have been trying all summer to win a pencil sharpener and have come up empty handed in that department each time so hopeful this time it will be different…Come to think of it, I do have a clock either. Oh well, I wonder what other things that I have forgot. We will soon see with school starting in just over a week.
Enjoy your new pencil sharpener, Holly! Everyone else, head on over to our new Avery HI-LITER Giveaway! Don't miss your chance to win three dozen pink, green and yellow highlighters!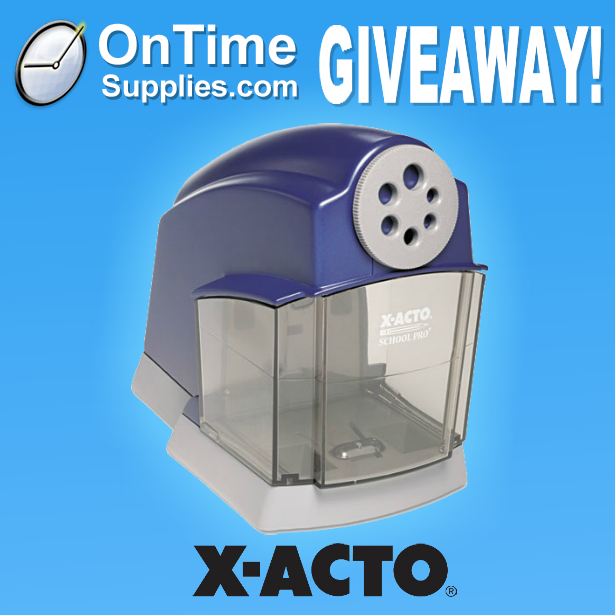 This week, we're giving away a X-ACTO Electric Pencil Sharpener to one lucky winner! X-ACTO Electric Pencil Sharpeners are perfect for classrooms and offices!
No more sharpening your pencils down to a nub! Cutting blades automatically retract when pencil is sharpened.

Multiple hole selector sharpens a variety of pencil sizes.
Pencil shaving receptacle eliminates messes!
Enter now for your chance to win a free X-ACTO Electric Pencil Sharpener!
How to Enter the X-ACTO Electric Pencil Sharpener Giveaway:
Subscribe to Office Ink Blog via email or RSS.
OR
Follow On Time Supplies on Facebook & share the giveaway on your Facebook page.
OR
Follow On Time Supplies on Twitter and re-tweet the giveaway.
Leave us a comment on this post telling us why you should win!
You get three entries and three chances to win if you enter on Facebook, Twitter AND the blog. The X-ACTO Giveaway ends next  Monday, August 12. We'll announce the winner here at Office Ink Wednesday,  August 14.  Good luck!