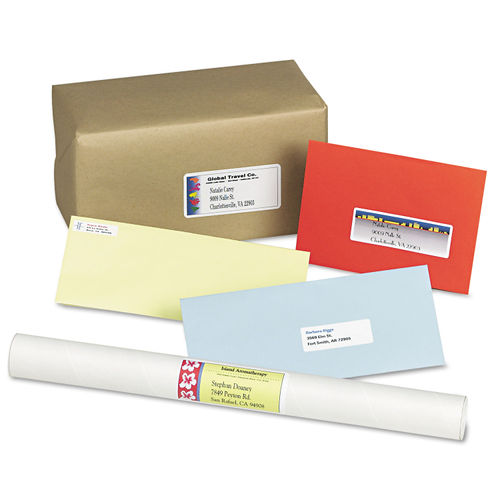 Going green is all about making informed choices. You probably don't think much about your office's shipping and address labels until you run out. While there's nothing really wrong with just grabbing the cheapest labels you find, you can go green and save money if you put a little thought into your purchase. On Time Supplies offers a variety of discount Avery labels that up the green quotient of any office! Avery starts with the packaging. All Avery shipping and address labels are packaged in recyclable boxes to help you reduce waste in your office. Furthermore, some Avery labels offer even more eco-friendly innovations.
You probably already use Avery Easy Peel Mailing Labels. The pop up edge design makes for fast peeling and easy use. Did you know that your Avery Address Labels were also recyclable? Environmentally friendly, easy to find and easy to use? Avery Address Labels may just be the perfect green office supply!
"Recycle and Reuse" is the green mantra. Avery TrueBlock Shipping Labels helps you with the "reuse" part.  TrueBlock Avery Shipping Labels completely cover and conceal old shipping labels so you can reuse envelopes, boxes and mailing tubes. That's not only eco-friendly; it's budget friendly too! Save money and the planet with Avery Shipping Labels!
On Time Supplies also carries Environmentally Friendly Avery Mailing Labels. The EcoFriendly lineup takes green office supplies to a whole new level! Avery EcoFriendly Labels are processed chlorine free for a greener manufacturing process. The packaging and the labels are made of recycled paper and printed using renewable, soy and vegetable based inks. Even the label adhesive are water-based and 100% recyclable, placing Avery EcoFriendly Shipping Labels among the greenest of the green office supplies!
Avery's address and shipping labels help you go green and save money! As a bonus, you can clip the Box Tops coupon on the package and raise money for your favorite school! So buy Avery address and shipping labels to go green, save money and raise money for schools!