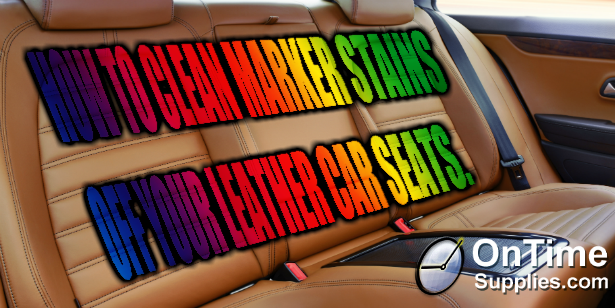 Shari from OnTimeSupplies.com passes on a great tip to Office Ink on removing Sharpie permanent marker stains:
Summer is upon us, as is swim team season. Right before swim team events, I use a Sharpie permanent marker to write my kids names on their backs and arms  — as well as the obligatory "eat my bubbles."   Then one last spray with sunscreen to protect my kids delicate skin from the harsh rays!!

We get to the swim meet and I notice my once near new leather car seats are now marked with Sharpie permanent marker ink – "eat my bubbles" permanently stamped on my nice leather seats.

I tried a baby wipes, soap and water, leather cleaner, some other miscellaneous stain removers and even one of those magic sponges. No luck, until the thought hits me – if sunscreen makes the marker go from skin to the car seat… then maybe…

Solution – spray on sunscreen!!! Remove ink stains from leather car seats like MAGIC!
Thanks Shari! I'm thinking sunscreen will work to remove ink stains from plastic and vinyl too. The next time you need to remove an ink stain, remember our Stain Removal Guide and use sunscreen!