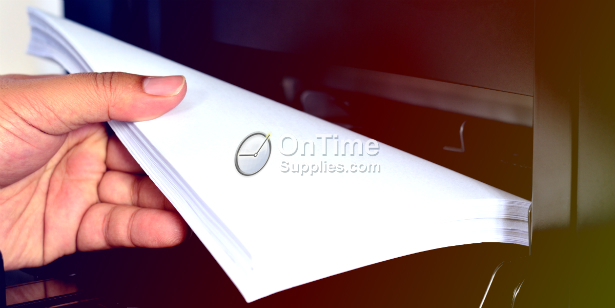 Not sure which paper weight will work best for your project? We're here to help! The Paper Weight Guide at OnTimeSupplies.com goes into all the details, but here is your quick guide to paper weights.
Bond Paper: best for everyday printing
Let's get the easy one out of the way first. Bond paper is just an industry term for regular office paper. Office paper weights range from 13-40 lbs. Most of the copy paper you use is 20 lb. paper. That's great for printing and copying regular text documents. Choose heavier paper when you are going to print images. 24 lb. paper is a great everyday printing choice. The heavier the paper, the better your prints will look.
Card or Cover Stock: best for presentations.
Next up is cover or card stock. Card stock weights range between 50-100 lbs. This is the fancy paper used in most brochures, pamphlet covers and the like. It's also a nice choice for presentations.
Bristol Paper: best for frequently handled printouts.
Lastly, there is bristol paper. Bristol paper is made by fusing two sheets of thinner paper to make a very stiff cover paper. Bristol paper is great for direct mail, greeting cards, posters and covers. It's also a great choice for frequently handled printouts, such as menus.
For more information about paper weights and choosing the best paper for your projects in the OnTimeSupplies.com knowledge base.
Sources: Paper Weight and Thickness Guide, Office Paper Buying Guide