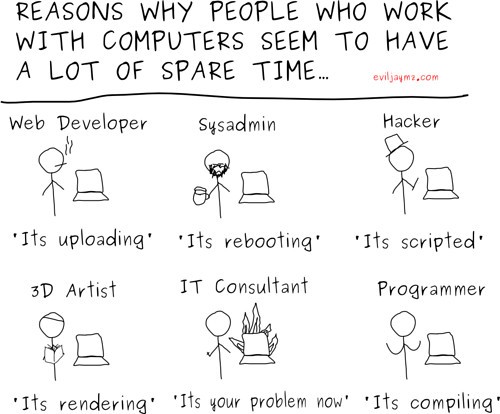 The Computer Dilemma via Dvorak Uncensored.
Working hard, or hardly working? No matter how much (or little) you got accomplished this week, I know you're glad it's Friday. Hope you had a great week. Here's a roundup of everything we've been talking about on the blog and around the web:
– Check out our list of the best and worst breast cancer organizations.
– Advent Hospital reminds you to get a mammogram with a cute dance video.
– The Tokyo Times posts a series of eerie photos of an Japanese school abandoned in 1974.
– Lifehacker shows you how to stop Facebook from following you around the internet.
– Science proves that the only thing standing between you and mental instability is a nice cup of coffee.
– The robots are out for your job.
– Can't get enough of those Angry Birds? There's an amusement park in China just for you.
– Collecting Box Top Coupons for your kid's school? Watch this webinar and learn how to become a lean, mean fundraising machine.
– The Wall Street Journal on the importance of a supportive office chair.
– Don't forget to enter the Pink Ribbon Merchandise Giveaway. You get a chance to win some cool office supplies, and OnTimeSupplies.com donates to Living Beyond Breast Cancer for every valid contest entry.
Have a great weekend!