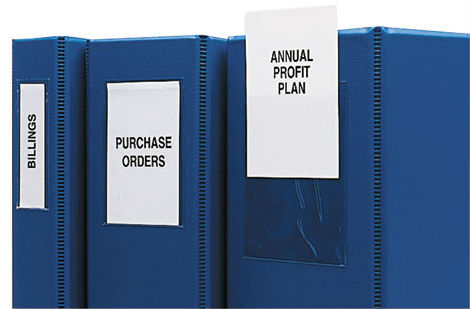 We get a ton of reviews at On Time Supplies, and we read every one of them. We love to hear what you think, especially your thoughts on some of our hard to find office supplies. Have you ever had the darnedest time finding a product you think would be everywhere? That's what happened to Jerry. He knew he needed something to help him organize the 3 ring binders on his office bookshelves. He just wasn't sure what he needed or where to get it. So for Jerry, C-Line® Self-Adhesive Binder Label Holders and On Time Supplies were like gifts from above  — or at least gifts from Google.
I finally organized my bookcases with C-Line® Binder Label Holders!

I am reorganizing my office bookcases into a complete filing center, and was unable to find supplies that I needed in local office supply stores, even the large chain stores like Staples. This difficulty was delaying my projects until I located the On Time Supplies site on the Internet. Since then, I've become a regular and frequent customer because of the availability, price, and quick service that your company always has to offer. You never fail to have exactly what I need whenever I shop with you. I consider it a lucky find that I located your site when I searched the Internet, and now I don't need to waste time to get quality office supplies.

– Jerry from Concord, NC
Try C-Line® Self-Adhesive Binder Label Holders and tell us what you think!
The best part about Jerry's review — besides the part about On Time Supplies totally kicking the Staples' butt — is that it reminded me to straighten up my own bookcases.