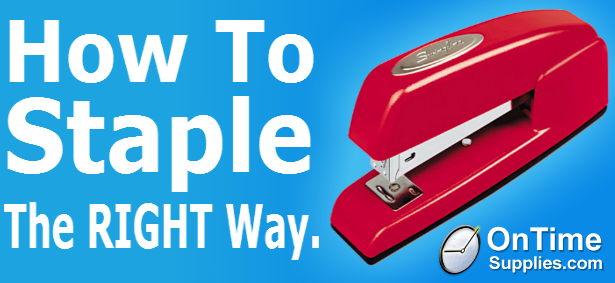 It's not that you're using your stapler wrong, exactly. It's just that you could be using it so much better. These tips will get you neat, even paper stacks every time you staple.
1. Load your stapler with chisel tip staples to prevent jams.
Universal® Standard Chisel Point Staples UNV79000 and other chisel tip staples have pointed ends to pierce paper stacks without jamming.
Recommended Chisel Tip Staples

Standard Chisel Point 210 Strip Count Staples, 5,000/Box
Swingline® Speedpoint S.F.® 4® Premium Chisel Point 210 Count Full Strip Staples, 5,000/Box
Stanley Bostitch® Full Strip B8 Staples, 1/4 Inch Leg Length, 5,000/Box
2. Line your pages against a wall to get even stacks.
You probably already give your papers an upright shuffle before you staple to even the stack. If you line your paper and stapler against a wall, you'll get a nice even stack along the horizontal AND the vertical edge.
3. Staple at about a 45 degree angle to reduce bulk.
The way you position your staple makes a difference. Place your staple at a 45 degree angle to cut down on bulk when you flip through the pages.
4. Pay attention to sheet capacity.
Your standard staples and staplers can only handle about 20 sheets of paper. Any more than that, and you're going to get jamming and partially stapled stacks. If you need to staple more that 2o pages, you need a heavy duty stapler.
Recommended Heavy Duty Staplers

Swingline® Heavy-Duty Stapler, 160-Sheet Capacity, Black/Gray
Stanley Bostitch® B8 Heavy-Duty Plier Stapler, 45-Sheet Capacity, Black/Charcoal Gray
Swingline® High-Capacity Desk Stapler, 60-Sheet Capacity, Black
You can find more tips on choosing the right staples and staplers in On Time Supplies Knowledge Base.