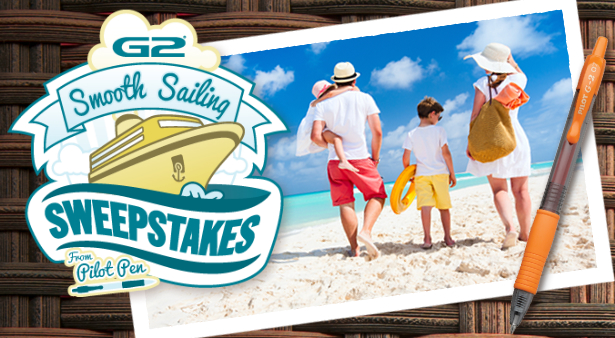 What Monday is complete without an idle fantasy or two about taking a luxury vacation? Now you have a chance to make the dream a reality — thanks to Pilot Pens! Enter the G2 Smooth Sailing Sweepstakes by June 30th for your chance to win a $10,000 Carnival Cruise from Pilot Pens.
Pilots G2 Pens are the #1 selling Gel Pens in the US. Pilot is celebrating that achievement by giving one lucky winner a $10,000 Carnival Cruise. In addition to the Grand Prize, Pilot will award one second and third prize too:
Grand Prize: $10,000 Cruise
2nd Prize: $1,000 Spa Day
3rd Prize: $500 GoPro® Camera
Best of all, you don't have to buy anything to enter the sweepstakes! Just mail in the sweepstakes entry form or enter online at PowerToThePen.com/sweepstakes.
Don't miss your chance to win the ultimate dream vacation! Enter the Pilot G2 Smooth Sailing Sweepstakes today for your chance to win!