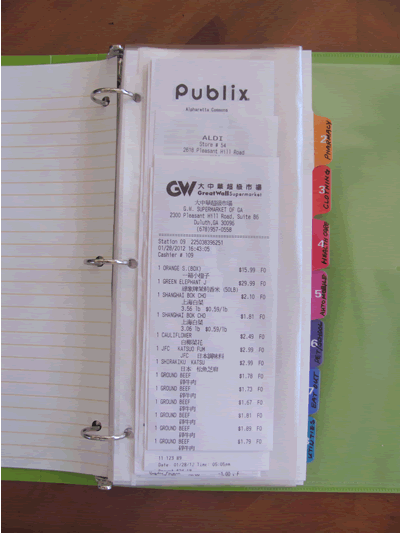 Ease some of the pain of tax season with a few sheet protectors, a 3 ring binder and index dividers. Take a cue from savvy home cooks and adapt the standard recipe binder into a receipt binder.  Use one sheet protector for each month, or try this tip for Coupon Fairies: fold your sheet protectors in half for twice the storage space.
The Get-It-Done Guy uses a version of this trick to track business expenses.  Here's how it works:
1. Fill a binder with plain 3-hole punched paper and 12 monthly index dividers — one for each month.
2. Instead of shuffling receipts off into a file box (or lets be real, a shoe box), scotch tape your receipts to the paper.
3. Once you fill up a page, add up the receipts and jot down the total in the corner.
4. Use the index dividers to separate the months for easy reference.
Try these tips if you've been faithfully hoarding old receipts into shoe boxes. Or if you have a better method of tracking expenses, we'd love to hear them. Leave your tips in the comments.
Sources: Coupon Fairies, Get-It-Done Guy