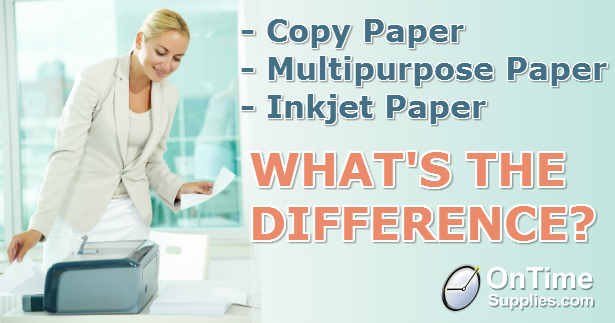 Ever wonder if there's any difference between copy, multipurpose and inkjet paper? You know, besides the price? Well, there is. You won't get great looking printouts if you use the wrong paper. It boils down to two factors:
What are you printing: all text, all pictures, or a mix of both?
What type of machine are you using: a laser copier or a little desktop inkjet?
This Office Ink Terminology Guide will show you when you should spring for laser or inkjet paper, and when you can get away with cheap copy or multipurpose paper. We'll use the most popular office paper at On Time Supplies as examples: Universal Copy Paper UNV21200, Hammermill Inkjet Paper HAM105050 and Hammermill Laser Print Office Paper HAM104604.
Copy Paper: best for everyday printing.
If you're just printing a basic, all-text document, go with a cheap copy paper (aka multipurpose paper) like Universal Copy Paper UNV21200. Copy paper works just fine in most office machines.
Inkjet Paper: best for printing graphics and images.
Printing pictures or charts? Go with inkjet paper like Hammermill Inkjet Paper HAM105050. Printing images and graphics deposits a whole lot of ink on your paper. Inkjet paper is coated and treated to dry fast, so the ink won't smear and the paper won't get too wet and buckle.
Laser Paper: best for printers, copiers, etc. that use toner.
Running off your prints in a laser printer, or in that big multifunction copier at the office? Choose a laser paper like Hammermill Laser Print Office Paper HAM104604. Laser paper is specially treated for toner adherence, so you get smooth and fully opaque results. Plus, laser paper has a high brightness (that just means it's really, really white). The higher the paper brightness, the higher the contrast, and the more vivid the printout.
You can find more info on the different types of office paper in the On Time Supplies Office Paper Buying Guide.