Update: We have our winners! Congratulations to Jennifer and AnnaMarie for winning the Elmer's Glue Stick Giveaway!
Jennifer:
This time of year, teachers search through sales ads looking for the best price for school supplies for the coming year. We all have students who cannot afford supplies and so we dig deep into our pockets to provide for them so that they can be excited about returning to school too with brand new school supplies. My colleague and I just discussed the other day where we might find the best price for glue sticks. We both teach 130+students in our 3rd and 4th grade Science classes. With so many students, we tend to go through glue sticks quickly making models, creating foldables and working in our journals. We would love to win Elmer's glue sticks for our students. Thank you for offering such a wonderful giveaway.
AnnaMarie:
I am a kindergarten teacher and do many projects using glue sticks with them. Many children, coming into kindergarten, need the fine motor skills of cutting and gluing since they were not given those opportunities prior to starting kindergarten. Having strong fine motor skills helps make drawing, coloring and writing much easier! I also have 2 teammates that I would happily share the supply. Thanks for the opportunity!!
Hope you guys have a great school year! Congratulations again! And thank you to all the participants! Don't  miss our new Paper Mate Giveaway and your chance to win dozens of Paper Mate pens and pencils, plus Liquid Paper correction tape! Good luck!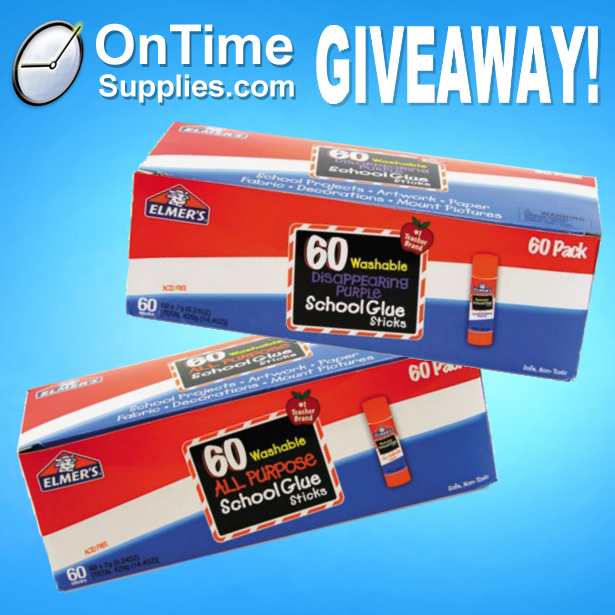 We're giving away TWO prize packs this week. Enter the Elmer's Glue Stick Giveaway for your chance to win a classroom-sized 60-pack of Elmer's Washable Glue Sticks! Elmer's dries completely clear, so it's perfect for craft projects. And plus, these glue sticks are completely non-toxic. Best of all, Elmer's Glue Stick completely washes off hands, clothes and surfaces. Enter now for your chance to win a box for your classroom!
How to Enter the Elmer's Glue Sticks Giveaway:
Subscribe to Office Ink via email or RSS.
OR
Follow On Time Supplies on Facebook & share the giveaway on your Facebook page.
OR
Follow On Time Supplies on Twitter and re-tweet the giveaway.
Leave us a comment on this post telling us why you should win!
And remember, we've got two winners this week, so your chances to are basically doubled! You can pick up extra entries by entering on Facebook, Twitter and Office Ink.  The Elmer's Giveaway ends next  Monday, July 22. We'll announce the winner Wednesday,  July 24.  Good luck!