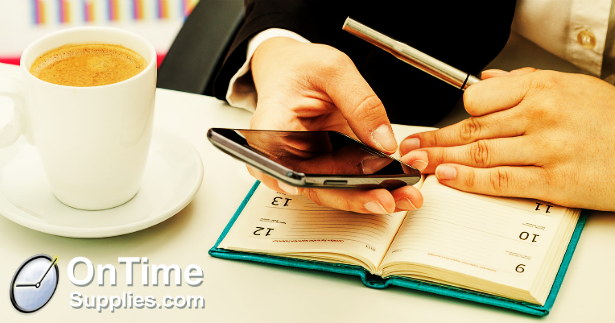 It's amazing how much you can get accomplished when you go in with a plan. Good time management is the key to success in any project. Nothing helps you stay on task better than an old fashioned day planner. The approach of the new year is good time to pick one up. You'll find lots of deals on 2011 calenders and planners at OnTimeSupplies.com.
Day planners are available in daily planner, weekly planner and monthly planner styles and fall under two main categories. Office Ink shows you which style of day planner will best meet your needs.
Appointment calendar
Day planners with an appointment calendar, or appointment books,  help you organize your work day.  Whether you manage a salon or an executive's schedule as an assistant, you want your appointment book to have the same features as a regular day planner, with the added benefit of an an hourly appointment calendar.
Planning calendar
Day planners with planning calendars  come in a range of styles and go by a lot of names – student planners, personal organizers, etc. – but they are all designed to help you track your task lists, manage your time, and plan short and long term projects. Whether you choose a style with daily, weekly or monthly planner pages, your new day planner should have:
space for jotting down notes and reminders. If your day planner doesn't have adequate space for notes, it will become filled with short, cryptic scribblings and cramped, illegible handwriting. With ample note taking space, you'll be able to actually read your notes instead of trying to divine their meaning.
a section for telephone numbers and addresses. You haven't memorized anyone's telephone number since you bought your cell phone ten years ago – not your boss', not your best client's, not your kid's. Use your day planner to back up important contact info in your day planner.
large calendar pages for at a glance viewing. Your day planner should be convenient to use and consult, otherwise you won't use it.
relevant calendar, i.e. public school calendar or other academic calendar, fiscal calendar, etc. Whatever your business demands.
AT-A-GLANCE, Day Runner, DayMinder, Day-Timer, and FranklinCovey all make great 2011 day planners and appointment books that will help you stay organized all year long. Order now at OnTimeSupplies.com to get same day shipping, and to get a jump start on an organized new year.